Formula Purposes & Benefits
Joint support gummies are formulated to support joint health, reduce inflammation, reduce joint pain, and increase joint flexibility.Our product is synthesized utilizing the latest scientific research and formulated with optimal ratios of collagen peptides to produce world class results. Our formula is third party independently tested for heavy metals, impurities, made in the USA, GMP certified, and produced in an FDA registered facility. 1% of the supplements on the market can match our world class standards.
Formula Ingredient Deck
Benefits Of Each Ingredient 
Glucosamine

Supports connective tissue health and decreased joint stiffness (111).
Glucosamine and chondroitin sulfate have shown beneficial effects on joint tissues in osteoarthritis (OA) (111).
Proper Use of This Supplement
Suggested Use:  As a dietary supplement take two (2) gummies once a day.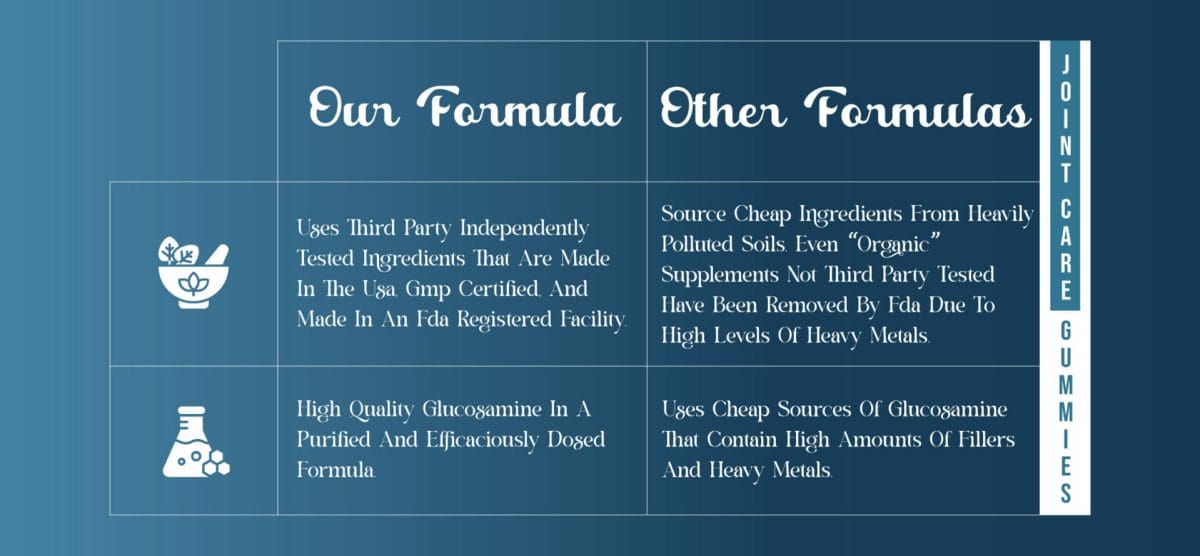 CAUTION: Do not exceed recommended dose. Pregnant or nursing mothers, children under the age of 18, and individuals with a known medical condition should consult a physician before using this or any dietary supplement.
KEEP OUT OF REACH OF CHILDREN.
DO NOT USE IF SAFETY SEAL IS
DAMAGED OR MISSING.
STORE IN A COOL, DRY PLACE.

* These statements have not been evaluated by the Food and Drug Administration. This product is not intended to diagnose, treat, cure or prevent any disease.
Sources: 
Simental-Mendía, M., Sánchez-García, A., Vilchez-Cavazos, F., Acosta-Olivo, C. A., Peña-Martínez, V. M., & Simental-Mendía, L. E. (2018). Effect of glucosamine and chondroitin sulfate in symptomatic knee osteoarthritis: a systematic review and meta-analysis of randomized placebo-controlled trials. Rheumatology international, 38(8), 1413–1428. https://doi.org/10.1007/s00296-018-4077-2
**Product labels, packing, and bottles' color, size, or shape, might differ from the pictures on the website.
If you have any questions, please let us know before ordering. We will not issue a refund for this complaint.**
* Terms & Conditions Applied *